Bavarian ivory sculptor
Do you think that you may own an ivory sculpture by Christoph Angermair? We authenticate, appraise, research, issue certificates of authenticity (COA), pre-ban certificates, and provide consultations for all ivory sculptures by Christoph Angermair.
Christ Child, 1630-1632

Christoph Angermair led a movement of 17th century ivory carvers in Europe. Angermair was born in Weilheim, Bavaria but spent much of his life in Munich, Germany. Angermair was the first of several German artisans to make small-scale carvings for royalty and the aristocracy. The decorative ivory pieces were known as Kunstkammern.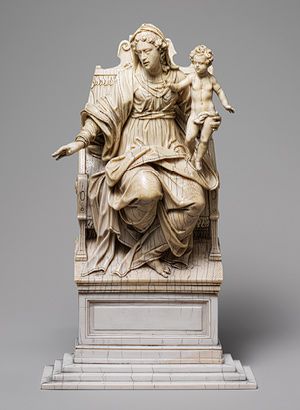 Virgin and Child Enthroned (from the workshop of Christoph Angermair) 17th century, South German Ivory; 11 1/4 x 6 5/8 in. (28.6 x 16.8 cm)
Angermair was commissioned to do many pieces by the Munich court of Duke Maximilian I. From 1613 onward, Angermair spent much of his career either working for the court or instructing his students at his school, The Royal Cabinet-Making Workshop of Christoph Angermair. Many well-known sculptors worked under Angermair, including Georg Petel.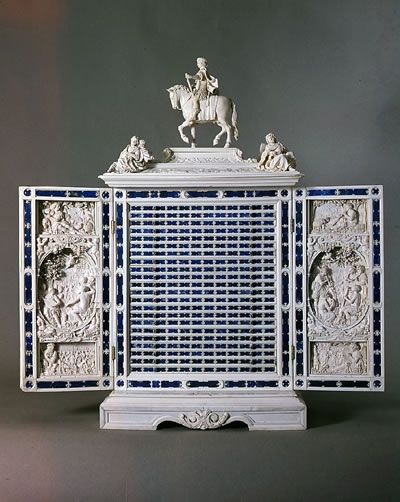 The Ecclesiastical Treasury
Angermair's work has been described as virtuous, expressing Mannerist proportions and the Italian sculpting techniques of Hubert Gerhard and Hans Reichl. While Gerhard and Reichl made bronze pieces, Angermair was greatly influenced by their aesthetic. Angermair's work has also been said reference the late Gothic style from the 15th century.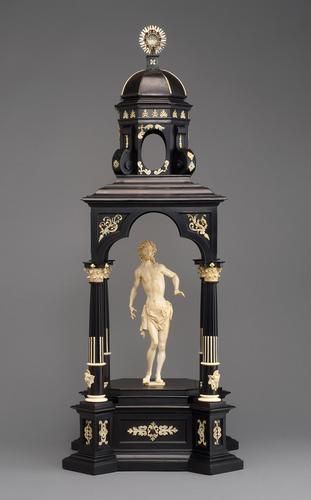 Tempietto Mit Schmerzensmann (Tempietto with hurting man)
Angermair is acknowledged on an international level for his technical brilliance as an ivory carver. The carvings of Angermair, as well as those works attributed to the Royal Cabinet-Making Workshop of Christoph Angermair, belong to museums and private collections throughout Europe and the United States. Do you think you own a carving by Christoph Angermair? Contact us. We are the ivory experts on Christoph Angermair.