French Ivory Carver
Do you think that you may own an ivory sundial by Edme Augustin Jean Moreau-Vauthier? We authenticate, appraise, research, issue certificates of authenticity (COA), pre-ban certificates, and provide consultations for all ivory pieces by Edme Augustin Jean Moreau-Vauthier.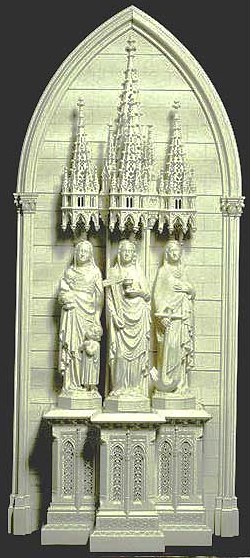 The Three Theological Virtues, ivory, 1855, 35 1/16 in. (89 cm); of virtues: 10 7/8 in. (27.6 cm)


Edme Augustin-Jean Moreau-Vauthier was born in 1891 in Paris, France. He studied under Armand Toussaint at the Ecole des Beaux-Arts and started his career as a sculptor. Augustin embellished and carved ivory, while focusing on allegorical characters.
Augustin understood the Gothic style better than any of his contemporaries, as can be observed in his work, Three Theological Virtues. The statues of the three virtues, Charity, Faith, and Hope, are placed in a Gothic, architectural setting, sheltered by Venetian lace supported by graceful pilasters. Open- work friezes and delicate niches, along with a Gothic arch, are elements of 13th century architecture. In the Three Theological Virtues, Augustin exhibits a style and elegance that only someone with a knowledge of Gothic cathedrals could portray. This piece was one of the first works by Augustin to be accepted by the Paris Salon. Each virtue was carved from an individual tusk, but the architectural setting is made of several separate pieces of ivory.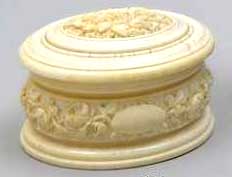 Ivory Casket, ca 1855
Augustin's father, Jean-Louis Moreau, was an ivory turner. Together, Augustin and his father created a Renaissance style ivory casket that was displayed at the Exposition Universelle of 1855.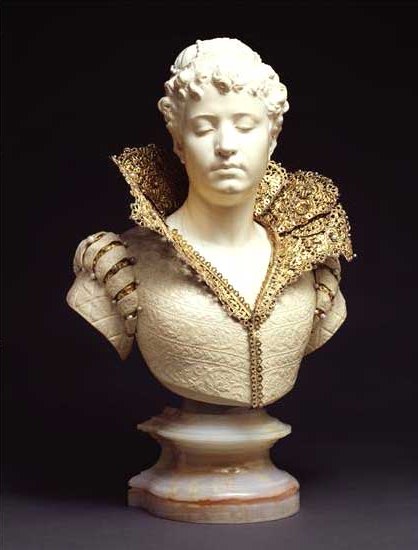 A Florentine Lady, ivory, gilt on silver, pearls, onyx, ca. 1892, 45. Cm
A Florentine Lady resembles the painting by Peter Paul Rubens, Marie de' Medici, the queen of France. Augustin, a diverse sculptor, was also known for his adeptness at Gothic, Renaissance, and Rococo designs. This lady statue wears a gilt collar of adorned with pearls.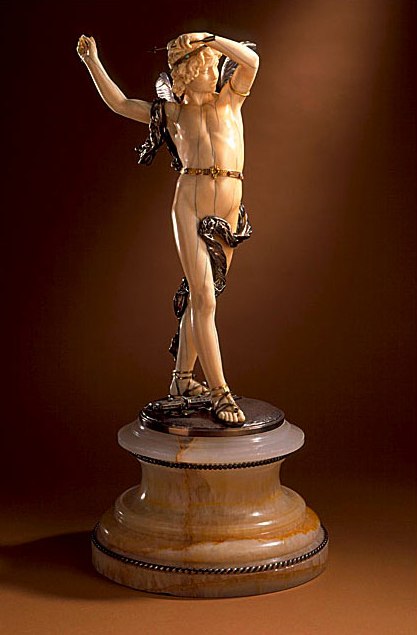 Cupid, 1875 Sculpture, Ivory, silver, and semi-precious stones, with onyx base, 18 1/2 x 7 3/4 in. (47 x 19.7 x 22.2 cm)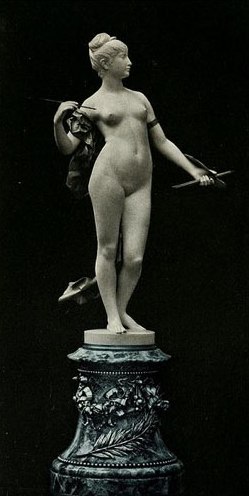 La Pienture, ivory (1831-1893)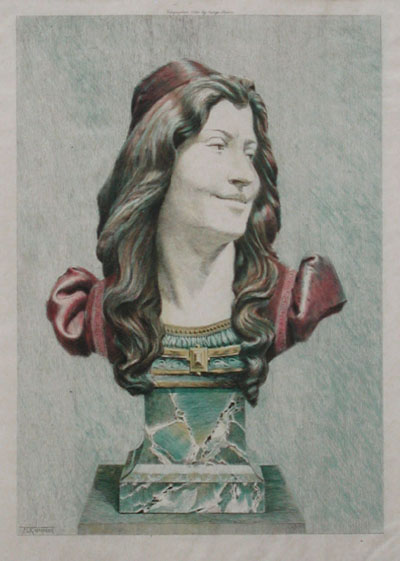 Florentine Head (Bust in Ivory and Bronze), 1894
Augustin-Jean Moreau-Vauthier (France, 1831-1893)
Engraver: Frank Le Brun Kirkpatrick (United States, c. 1852-1917)
Medium: Original Etching in Four Colors Image Size: 18" X 12 1/5" (to edge of margins)
Do you think you own an ivory carving by Edme Augustin Jean Moreau-Vauthier? Contact us. We are the Ivory experts.