Romanian ivory sculptor
Do you think that you may own an ivory sculpture by Demetre H. Chiparus? We authenticate, appraise, research and issue certificates of authenticity (COA) and provide consultations for all ivory sculptures by Demetre H. Chiparus.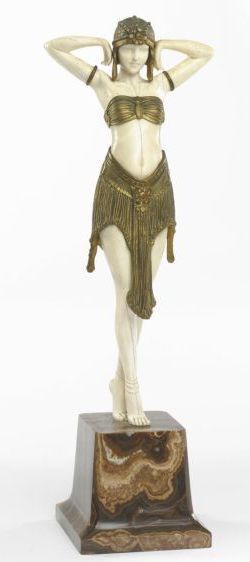 Scarabee, circa 1928. gilt-bronze and carved ivory and with a marble base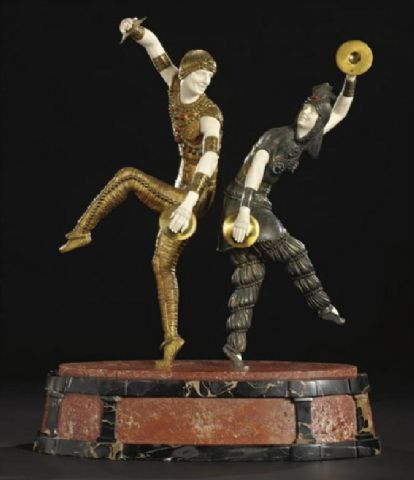 Russian Dancers, 1928, Gilt, cold-painted and ivory

Demetre H. Chiparus was a Romanian sculptor known for his ivory and bronze sculptures of Russian dancers. Chiparus was born in Romania but spent much of his life and career in France, before the start of World War I.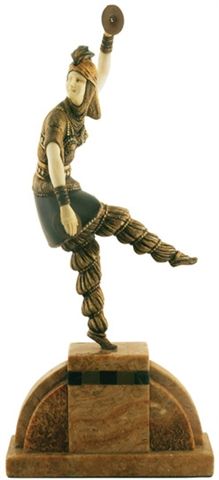 The Russian dancer, bronze, ivory on marble and onix 15,4 x 0 in. / 39 x 0 cm. 1928 -
Chiparus studied in both Italy and France at the Ecole des Beaux Arts in Paris. Chiparus had success in Paris as an artist of the Art Deco era, and exhibited at the Salon in 1914. Chiparus was a master of the sculpting technique, chryselephantine. Chryselephantine is the combined use of bronze and ivory.


Antinea, ivory, silvered and cold-painted bronze and marble 26,5 x 0 in. / 67,3 x 0 cm.
During the 1920s, Chiparus was inspired by the excavation of Tutankhamen's tomb and began to make sculptures with an Egyptian influence.
Chiparus most commonly sculpted dancers, modeled from the Russian Ballet and French theatre. Chiparus created his dancers in various dance poses and in elaborate costume. Chiparus's masterful use of bronze and ivory give his figures an amazing life-like quality.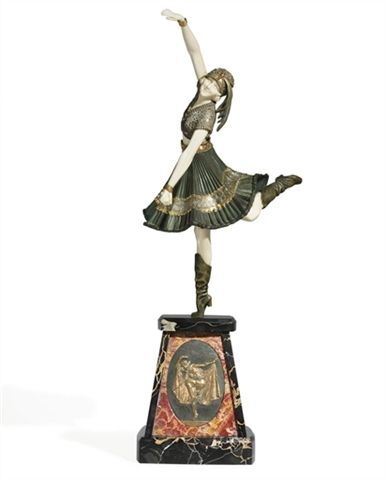 Cossack dancer figure, cold-painted, gilt-bronze and ivory 22,5 x 0 in. / 57,2 x 0 cm. 1925 -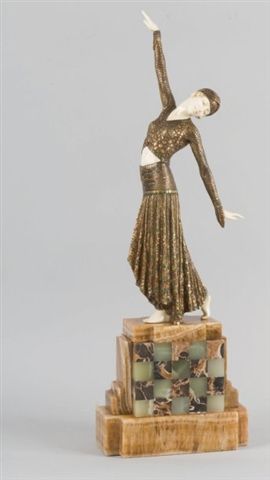 Dancer, bronze with polychrome patina and ivory 22,8 x 0 in. / 58 x 0 cm.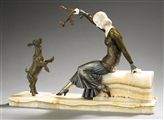 Young Girl, bronze w/patina, ivory and onyx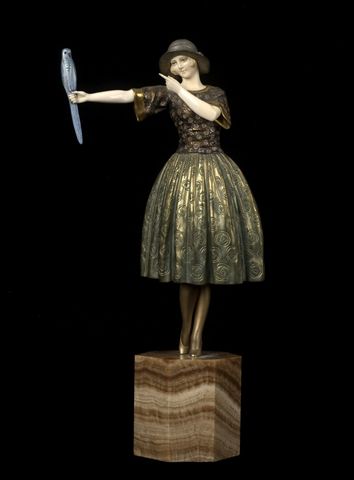 Indiscreet, cold-painted, parcel-gilt and silver bronze with patina, carved and tinted ivory on onyx base 16,9 x 8,3 x 4,7 in. / 43 x 21 x 12 cm.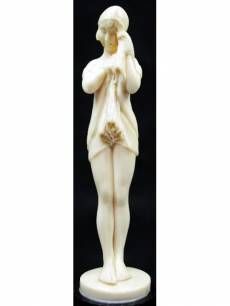 The Little Sad One, Ivory Sculpture on Marble Base
Demetre Chiparus did most of his work at the Etling Foundry in Paris. Chiparus signed almost all of his pieces, "D. H. Chiparus", which he etched on the sculpture's base. Do you think you may own an ivory sculpture by Demeter H. Chiparus? Contact us, we are the Chiparus experts.
---