Austrian Ivory Carver
Do you think that you may own an ivory carving by Balthasar Griessmann ? We authenticate, appraise, research and issue certificates of authenticity (COA) and provide consultations for all ivory pieces by Balthasar Griessmann .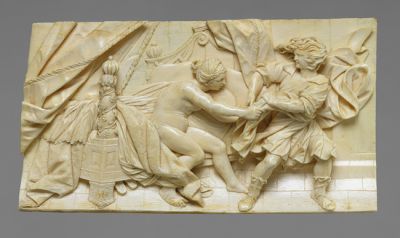 Joseph and Potiphar's Wife, second half of 17th century
Austrian Ivory; 3 11/16 x 6 7/8 in. (9.4 x 17.5 cm)
Griessmann is depicting a biblical scene from Genesis 39.
Balthasar Griessmann was an important 17th century sculptor. It is believed that Griessmann was born in Wasserburg, Bavaria. Early in his career, Griessmann relocated and spent much of his life in Vienna, where he was recognized for his skill as an ivory sculptor. Griessmann's pieces were seen as virtuous masterpieces, created for design and form rather than function.
Griessmann often made narrative, ivory friezes based on Dutch engravings. The narratives included hunting and fishing scenes as well as biblical stories. The friezes vary from highly figurative to ornamental and decorative. Griessmann's more decorative pieces are adorned with "putti" fantastically riding dolphins. Griessmann was talented at carving, both shallow and high reliefs as well as intricate carved objects.
Griessmann followed the popular tradition of carving tankards, or decorative drinking vessels with a single handle. Tankards were often carved out of ivory and resemble beer steins. Many tankards are decorated with narrative scenes and have hinged lids.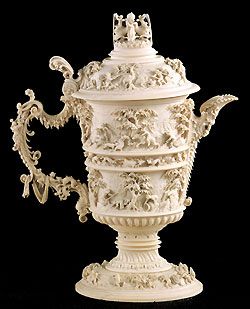 Tankard with Lid Decorated with Hunting and Fishing Scenes
3rd quarter of 17th century
Ivory; H 29.8 cm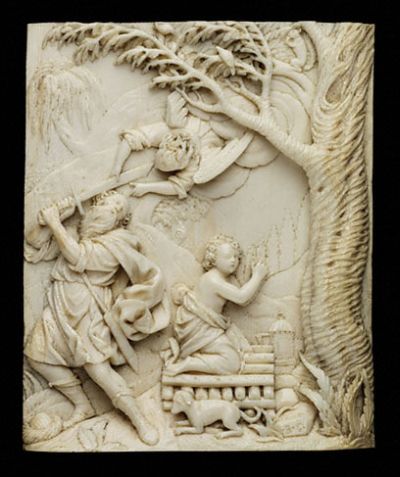 'The Sacrifice of Isaac' (about 1679)
In the above frieze, Griessmann depicted a biblical story in which Abraham was commanded by God to sacrifice his only son Isaac as a test of his faith. Just as he was about to strike his son, God released him and provided a ram for the sacrifice.
Balthasar Griessmann's 17th century carvings now belong to important museums and collections across Europe and the United States. Do you think you own an ivory sculpture by Balthasar Griessmann? Contact us. We are the experts on Balthasar Griessmann.
---