German ivory carver
Do you think that you may own an ivory sculpture by Johannes Michael Maucher? We authenticate, appraise, research and issue certificates of authenticity (COA) and provide consultations for all ivory sculptures by Johannes Michael Maucher.



Wheel-lock Rifle, engraved steel; wood, inlaid with ivory and mother-of-pearl, ca. 1680-90
Johann Michael Maucher was one of the most well known South German engravers and gunsmiths of the seventeenth century. He was also the best-known artist from a Schwabian family of amber, ivory, and wood-carvers. His father, Johann Georg Maucher, owned a gunsmith shop in which he decorated musket stocks. It was there that Michael and his older brother, Christoph Maucher, learned gun-smithing and then extended their skill to other media. Christoph Maucher was also a renowned ivory carver and sculptor.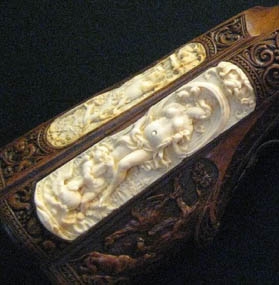 Inlay detail of rifle stock, ivory, ca. 1680-90
Maucher was dedicated to carving ivory plaquettes in high relief to mount onto the stocks of rifles and muskets, but he was also known for making other objects out of ivory, such as pitchers and basins, to name a few. Mythological figures and hunting scenes dominated subjects of his designs. The wooden stock of the rifle shown above is carved and embellished with ivory plaquettes of vigorously sculpted nudes and bulging forms that are consistent with the German Baroque style. Weapons, such as the ones created by Maucher, were valued more for their artistic value and rarely used as firearms, otherwise the delicate ivory decorations would have been damaged. Maucher drew inspiration for his designs from 16th and 17th century prints by Jost Amman, Adriaen Collaert, Phillip Galle, and similar artists.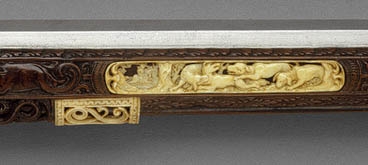 Detail of ivory inlay under barrel of rifle, ca. 1680-90
Maucher fled to Augsburg in 1689 to escape punishment for money counterfeiting. In 1688, while living in Augsburg, he presented a lavishly decorated rifle to the Emperor Leopold I. Maucher moved to Wurzburg in 1693 and lived there until he died in 1701. Maucher adorned and signed over 30 hunting guns and rifles over his lifetime.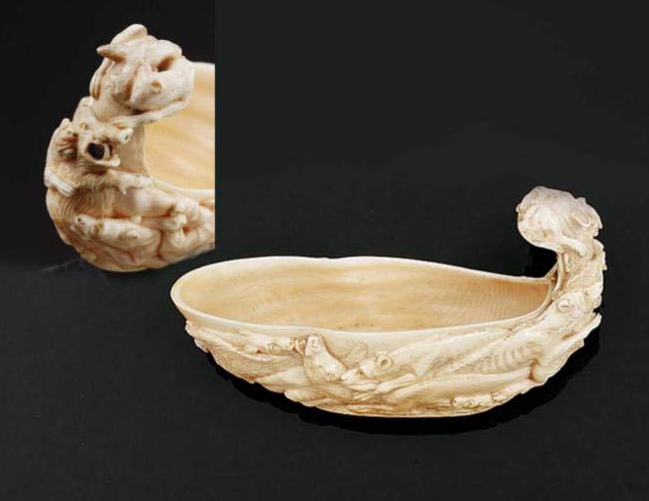 A rare, south German ivory hunting cup, ca. 1670-80
The exterior of this rare hunting cup, carved in relief by Maucher, illustrates a hunting scene of dogs chasing boar, deer, and rabbits.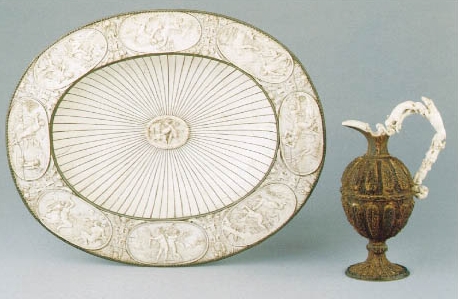 Ivory and wood ewer-shaped jug and oval serving dish, 17th century
This elegant, Neapolitan set of serving dish and ewer-shaped jug decorated by Maucher, display mythological scenes placed inside of oval medallions. These elements are examples of the Late Mannerist period. Maucher's intense, figurative design is executed in a rigorously sophisticated and classical manner.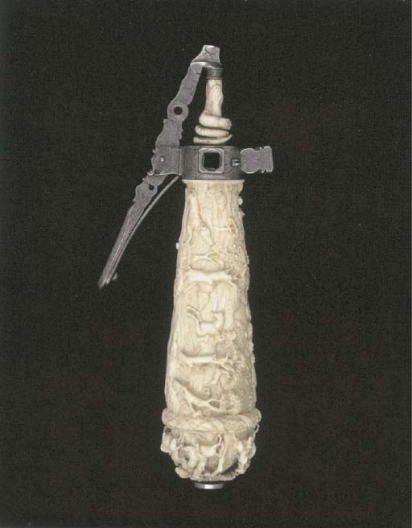 Ivory powder flask, 17th century
The tapered, cylindrical body of this powder flask carved by Maucher, illustrates a wooded chase scene involving hounds, mounted huntsmen, boar, and stags. The nozzle is carved in the shape of a coiled snake.



Carved ivory hilt, last quarter of the 17th century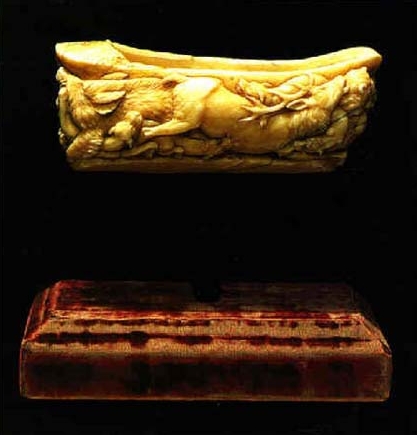 Narwhal tusk drinking vessel and red velvet stand, 17th century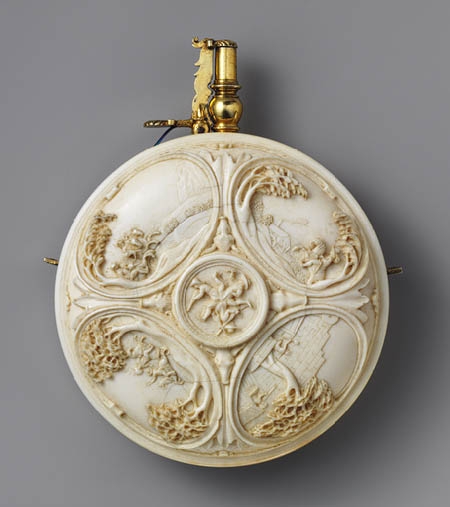 Ivory powder flask, late 17th century, 14.5x 10.8 cm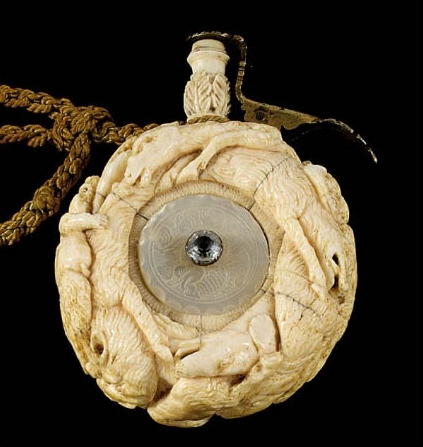 Small ivory doughnut shaped powder flask, late 17th century, 11.5 cm
The relief of this boldly carved powder flask by Maucher, portrays two male satyrs, hounds in pursuit of deer, boar, and an elephant. The silver-gilt cover is spring-loaded and decorated with plaquettes of mother-of-pearl with beads of glass paste in the center.



Michael Maucher monogram
Think you may own an ivory carving by Johannes Michael Maucher? Contact us, we are the experts on Johannes Michael Maucher.
---