Bavarian ivory sculptor
Do you think that you may own an ivory sculpture by Georg Petel? We authenticate, appraise, research and issue certificates of authenticity (COA) and provide consultations for all ivory sculptures by Georg Petel.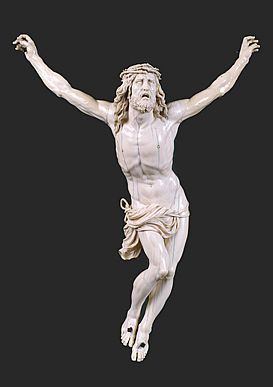 Crucifix, 1621, Ivory, h. 49 cm Private collection,photo: conseil général du val d'oise - conservation des antiquités et objetsd'art, a. maugin



Georg Petel was a Bavarian sculptor known for his masterful works in ivory. Petel was born in 1601 or 1602 in Weilheim, Upper Bavaria. Petel only lived to be in his mid-thirties, yet accomplished an astounding amount before his death in 1934. Petel is sometimes known as the "German Michelangelo". Petel's sculptures combine Flemish, Italian and Southern German elements. Petel's work is characteristic of the Early-Baroque era, a difficult time that corresponded with the Thirty Years' War in Germany.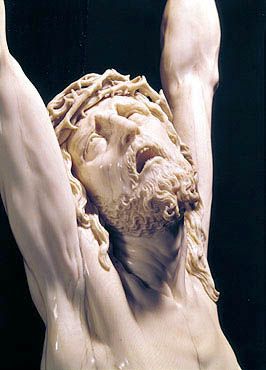 Crucifix detail (ivory)
Petel learned ivory carving in Munich at the Royal Cabinet-Making Workshop of Christoph Angermair. Petel was able to leave Germany for part of the Thirty Years' War as an itinerate tradesman.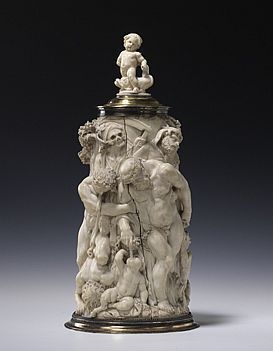 Tankard with bacchanal, 1630, Ivory with silver holder, gilded, h. 28,2 cm augsburg, kunstsammlungen und museen, maximilianmuseum
Around 1620 Petel met artist, Peter Paul Rubens in Antwerp. Some of Petel's most famous, small sculptures, were created during this time, based on Ruben's paintings. Petel was able to travel extensively, making stops in Rome and Genoa. Petel's reputation grew in Italy, as he was considered the finest ivory carver of his time.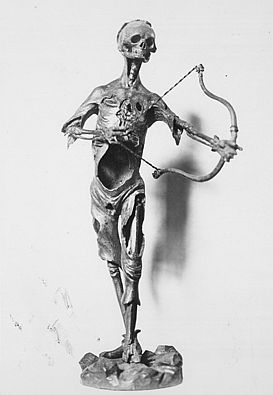 Standing Death, circa 1628-1630, Lime wood, h. 17,2 cm Munich, Bayerische Schlösserverwaltung Castle Museum, Neuburg an der Donau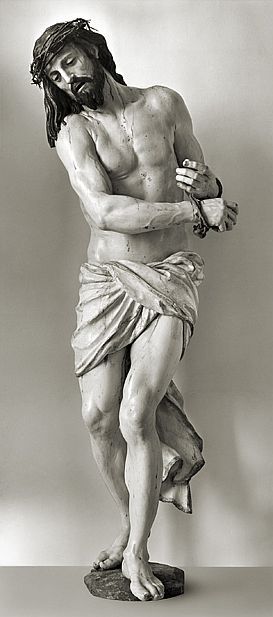 Ecce Homo, circa 1630, Lime wood, h. 179,8 cm Augsburg Cathedral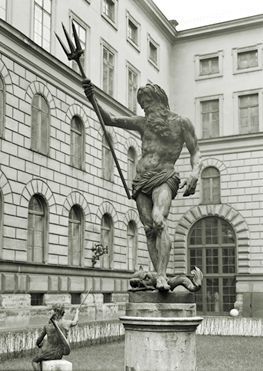 Neptune, standing on a dolphin, circa 1628/29, bronze, h. figure 180 cm Munich, bayerische schlösserverwaltung Munich Residence
Petel returned to Germany in 1624 to work for various Princes and Electors who wanted to assign him to their courts. Petel turned down the offers to work for the royal courts and moved to Augsburg, where he became a Master Sculptor. In Augsburg arts thrived and Petel was able to create many pieces. Petel created a number of highly, detailed crucifixes and saints, particularly Saint Sebastian.. Petel also drew from mythology and antiquity, portraying crude and erotic themes for his time.


Christ at the column Medium: ivory Size: 13.4 x 0 in. / 34 x 0 cm.
Petel received a constant flow of commissions until Augsburg was taken by siege and the harsh realities of war. It is assumed Petel died in 1934 during this time of the plague and political unrest.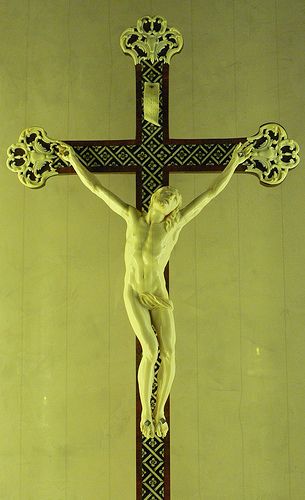 Crucifix Ivory on wood and metal cross
During post-war time, many of Georg Petel's works were uncovered. Collectors and Museums continue to discover Petel's work to this day. Petel's work can be found in the Kunsthistorisches Museum, Vienna; the Residenz Museum, Munich; St. Moritz Church, Augsburg and the Bavarian National Museum (Bayerisches Nationalmuseum) Munich.
Do you think you own an ivory sculpture by Georg Petel? Contact us. We are the Georg Petel experts.
---