Austrian ivory sculptor
Do you think that you may own an ivory sculpture by Simon Troger? We authenticate, appraise, research and issue certificates of authenticity (COA) and provide consultations for all ivory sculptures by Simon Troger.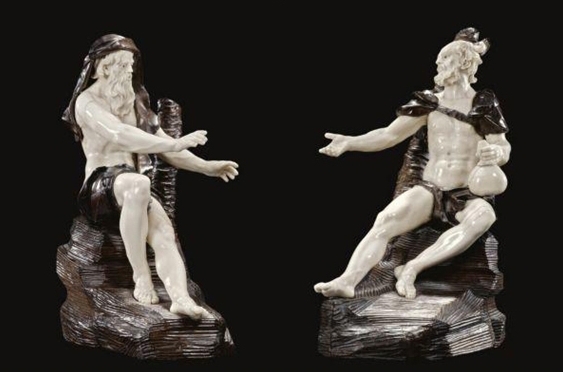 Pair of Seated Male Figures, mid 18th century, ivory and fruitwood, 10 x 25.5 cm




Simon Troger was born in Nuremberg, Germany in 1683 and specialized in figures and groups of figures sculpted from a combination of ivory, black stained wood, and with inset glass eyes. He first earned a living working as a farm hand, but his talent of carving figures out of wood caught the attention of Elector, Maximilian II, who provided Troger with an education. He worked and studied in the workshop of Schmiedecker in Merano, Italy from 1723 to 1725, then moved to Innsbruck to work in the shop of Nikolaus Moll.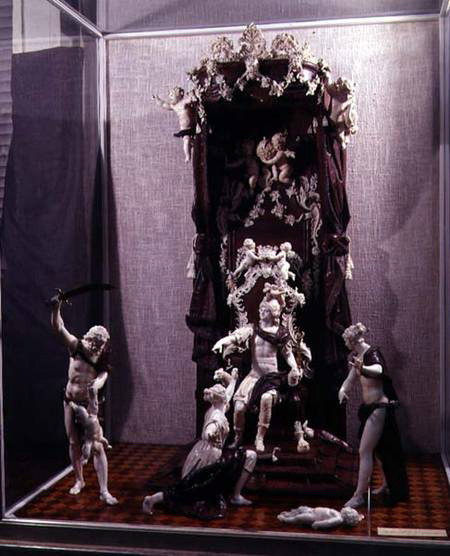 The Judgment of Solomon, ca. 1741, ivory and wood, 102cmx122cm, Victoria and Albert Museum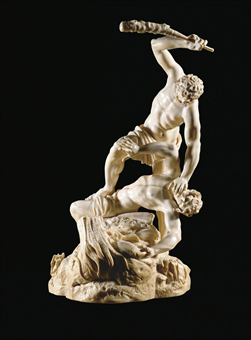 Cain and Abel, first half of the 18th century, ivory and boxwood, 34.5 cm
During his time in Italy Troger created a large group in wood and ivory of St. Michael Vanquishing Satan, which may be his earliest known work. Troger moved to Munich in 1726 to work alongside Andreas Faistenberger, and in 1733 established his own highly productive shop in Haidhausen. Troger lived in Munich until he died in 1768.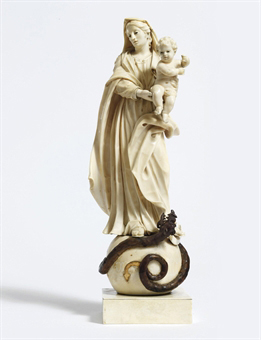 Virgin and Child, First half of the 18th century, ivory and boxwood, 35 cm
Troger produced many devotional figurines and groups. He actually signed his devotional piece, The Virgin, on the reverse side of her cloak. The fact that The Virgin is fully signed implies that Troger was particularly pleased with this piece.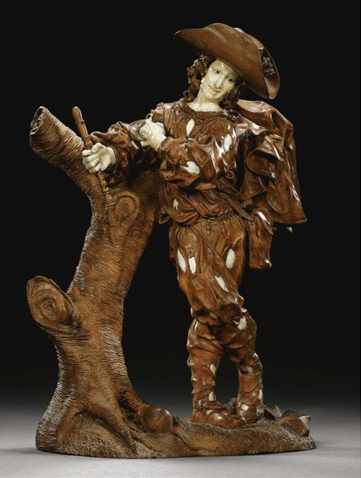 The Pied Piper Of Hamelin, 18th century, ivory and boxwood with glass eyes 14x35.5 cm
Under the patronage of the Bavarian Elector, Maximilian III Joseph, Troger carved many figurines and groups in a style that would become known as "Troger figures." Troger integrated the use of wood to clothe his figures. He also used other materials such as metal, glass eyes, enamel, and shiny, textured surfaces to create a sense of fantasy that was indicative of the drama and theatricality of the Baroque period.


Peasants (A pair of South German ivory and boxwood figures in the manner of Simon Troger), mid 18th century, ivory and boxwood, 14 ¼ x 14 in.
The poses of Troger's figures exemplify an expertise in the Baroque carving style. Troger was influenced by such sources as Mannerism, Furstenberg porcelain, and artists such as Faistenberg. you think you own a carving by Simon Troger? Contact us. We are the ivory experts on Simon Troger.
---