German ivory carver
Do you think that you may own an ivory carving by Stephan Zick? We authenticate, appraise, research and issue certificates of authenticity (COA) and provide consultations for all ivory carvings by Stephan Zick.
Stephen Zick was one of the greatest ivory sculptors of the 17th century. Zick came from a family of Ivory turners in Germany, from whom he learned the trade. Not only did Zick follow his family trade, but became recognized across Europe for his incredible skill and ingenuity in the field. Zick led the Nuremberg Workshop, which trained a number of artists to be masterful carvers.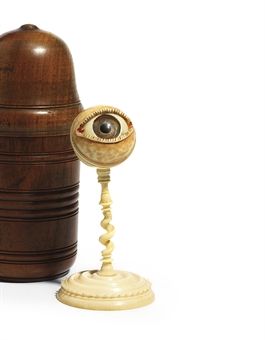 Anatomical Model of an Eye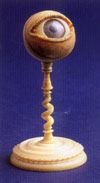 Anatomical Model of an Eye
Zick is most recognized for making anatomical models of pregnant women and of model eyes. The life size eye models were widely celebrated. The eyes are complete with removable pieces, which fit into an eye socket and sit upon an ivory stand. Medical students used the models to study the structure of the eye.
Zick's anatomical models of pregnant women continue to be popular today. The pregnant figure was comprised of multiple pieces, which could be taken apart to expose organs, uterus and a developing fetus, attached to the mother by an umbilical cord of braided silk thread. The ivory figure was made to fit into a tiny wooden coffin. Zick was known for his attention to detail, making scored kneecaps and slightly fisted hands. The ivory anatomical figures are in museums private collections and homes around the world.
Zick not only made anatomical models, but traditional ivory pieces. The turned cup was a common, decorative form produced in the Nuremberg workshop. The cups often differ in motif and form, but have similar molds.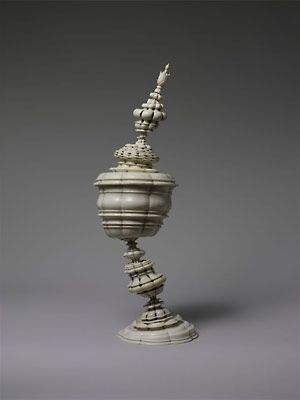 Turned Cup with Cover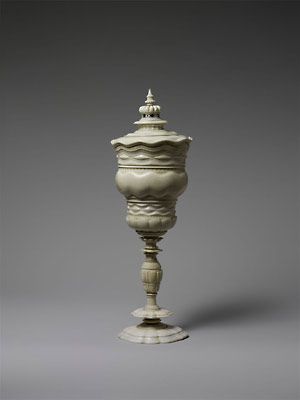 Turned Cup with Cover
Artisans have been influenced by Zick's designs for centuries. Versions of the pregnant woman continue to be reproduced and proudly displayed. Do you think you own a 17th century ivory carving by Stephan Zick? Contact us. We are the experts on Stephan Zick.
---